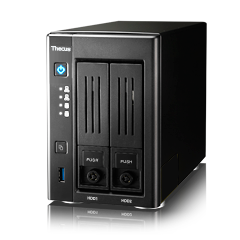 Embedded with Intel Celeron N3150 Quad Core CPU
Running on the newly-designed, enhanced ThecusOS™ 7.0
Seamless 4K Multimedia Playback
Uninterrupted Accessibility with Thecus System Failover
Secure Remote Access with Virtual Private Network (VPN)
Faster Transfers: 2 LAN Ports for Link Aggregation
Complete Client Side Protection: Bundled with Free Acronis Software
Características
Running on the newly-designed, enhanced ThecusOS™ 7.0

The N2810PLUS runs on the newly designed ThecusOS 7.0 offering an easy to use, intuitive user interface. Introducing several new features including Photo Station, Thecus App Center, User Profile, ThecusOS 7.0 delivers significant improvements in design, performance, and user experience.

Seamless 4K Multimedia Playback

The N2810PLUS is equipped with the newest generation Intel Celeron N3150 1.6 GHz Quad Core processors (burst to 2.08 GHz) and 4 GB DDR3 RAM. Furthermore the N2810PLUS supports AES-NI encryption engine for increased performance and enhanced security. The N2810PLUS steps up to the challenges that 4K playback creates and provides a robust hardware platform that is able to handle multiple tasks with ease

Uninterrupted Accessibility with Thecus System Failover

The Thecus System Failover feature is a fault tolerance process that creates mirrored data volumes. With at least two Thecus NAS available, data is copied by schedule and all changes are mirrored between the two NAS. While the second NAS is not visible, it communicates with the primary NAS. In the event of a power or network failure, a scheduled maintenance, or other unforeseen circumstances, System Failover automatically redirects operations to the secondary Thecus NAS, which then acts as the primary NAS.

Secure Remote Access with Virtual Private Network (VPN)

A VPN Server allows users to remotely access a secure network. with VPNs, businesses will be able to utilize a cost-effective, scalable and secured network infrastructure for its client base.

Snapshot Your Data

With BTRFS support, Thecus NAS users can enjoy the simplicity of snapshot backups. Through BTRFS subvolumes, snapshots of data at various time points can be manually or automatically made and just as easily later restored to rollback files or folders to previous states.

Complete Data Backup Solution

Bundled with
Free Acronis® Backup Software

Thecus brings the best to the table with Acronis's advanced backup software. Back up all your data with One-click Protection or pick and choose only your most important files. Acronis sports a slick interface, user-friendly design, and comprehensive features to keep your data safe.

Local Backup &
Time Machine

PC users can utilize local backup devices while Mac users can automatically back up their entire Mac. Whenever a need arises, users can simply go back and recover files quickly and effortlessly

Real-Time Remote
Replication (Rsync)

This innovative backup feature allows users to back up files instantly to their NAS, external hard drive, or remote NAS. RTRR saves you time as it is able to back up data immediately and automatically.

The Cloud Done Your Way

Personal Cloud

We're a mobile society, and our NAS solutions are keeping up! Incorporated into Thecus NAS is support for Thecus's T-OnTheGo™ smartphone app. Supporting both iOS and Android, this NAS management software enables users to access, copy, stream, and edit any data between their NAS and mobile device. Your own personal cloud, available from anywhere with internet access.

Cloud Backup

The private and public clouds meet with Thecus' new DropBox, Amazon S3 and ElephantDrive cloud backup functionality! Guard your data with RAID at home and an additional level of protection in the Cloud. Just drag and drop files into the folder on your NAS and access them on any computer or mobile device with DropBox, Amazon S3 or ElephantDrive.

Remote Access via Free DDNS

Enable easy access to your NAS with Dynamic DNS. DDNS allows users to allocate and access their NAS files via the internet remotely. When the IP address is changed, the DDNS server will automatically adjust your address to make sure that remote access is always available. In short, DDNS provides convenient remote access to your Thecus NAS possible by utilizing domain names instead of IP digits.

Multimedia Data Center

Direct Media File Playback
via HDMI Output

Transform your NAS into the ultimate multimedia hub! Thecus® NAS integrated HDMI output allows you to connect your NAS directly to your TV for direct device management and multimedia playback.

Media Streaming to XBOX360/PS4
via Plex Media Server

With the Plex Media Server installed on your Thecus® NAS, various devices on your network (such as your Xbox 360 and mobile devices) can connect to and stream your local and online media. The server can also automatically assemble iTunes, iPhoto, and Aperture content. From your favorite videos to your mountains of music, Plex makes it easy to manage and enjoy all of your media on your Thecus NAS.

TV Streaming
via Apple TV/Chromecast

Thecus NAS allow you to have your very own entertainment hub wherever you go. With TV streaming support and mobile apps, you can share all your favorite photos, music, and videos.

7 Modes of Link Aggregation for Faster Transfers

Link aggregation can sustain multiple network connections and provide redundancy in case one of the links fails. Thecus NAS supports 7 modes which provide Load Balance, Failover, 802.3ad, Balance-XOR, Balance-TLB, and Balance-ALB, Broadcast.

Flexible Storage Allocation with iSCSI LUN and Thin-Provisioning

Get the most out of your storage space with the extreme speed of iSCSI and the efficiency of iSCSI thin provisioning. Connect through iSCSI for the fastest data transfer speeds available and make wasted disk space a thing of the past with thin provisioning's flexible storage functionality.
Visão geral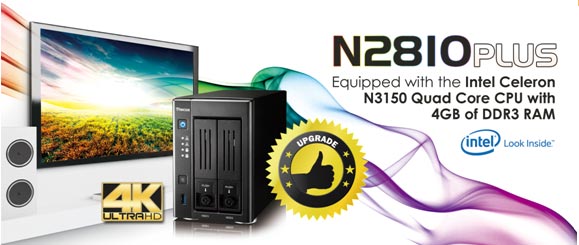 A Thecus anunciou hoje o lançamento do N2810PLUS, uma versão atualizada do N2810 que estará equipada com 4 GB de RAM DDR3 e o processador Intel Celeron N3150 Quad Core da próxima geração, permitindo aos utilizadores maior velocidade e capacidade de processamento. Este servidor NAS com duas baías satisfaz a procura de utilizadores domésticos e de pequenos escritórios que buscam uma proteção impenetrável para os seus dados e reprodução multimédia com resolução de vídeo 4K.
Concebido com uma fácil instalação de disco rígido e centrado na fiabilidade, as caraterísticas do N2810PLUS incluem uma porta HDMI para desfrutar de reprodução multimédia em resolução 4K, disponibilizando aos utilizadores o seu próprio centro multimédia com suporte para Air Play. Com duas portas LAN que oferecem 7 modos de agregação de ligações, possui também três portas USB 3.0 para transmissão de dados mais rápida. Além disso, o N2810 suporta uma ampla variedade de aplicações para estilos de vida digital modernos.
O N2810PLUS executa o ThecusOS 7.0, fornecendo uma plataforma otimizada, rica em funcionalidades com uma interface de utilizador e navegação fácil. As novas funcionalidades principais incluem Photo Station, Thecus App Center e File Center. O ThecusOS 7.0 oferece melhorias significativas em produtividade, flexibilidade e desempenho.
O N2810PLUS comparado com o N2810, que era suportado por um Intel Celeron N3050 com 2 GB de RAM, tem duas vezes mais memória e o dobro dos núcleos de processador com o mesmo consumo de energia do CPU. Por isso, o novo NAS tem significativamente maior eficiência e desempenho. O N2810PLUS oferece os serviços essenciais desejados num NAS, satisfazendo a procura por transmissão de dados de alta velocidade, uma solução de armazenamento segura para proteger e partilhar dados e um aumento das possibilidades de utilização para trabalho e multimédia.
Disponibilidade: A edição N2810PLUS será lançada mundialmente em 19 de abril de 2016.
Especificações
1. Plataforma de hardware
Item
Especificações
Processador
Intel® Celeron N3150 1.6GHz burst up to 2.08gHz Quad Core
Memória do sistema
4GB DDR3
Memória expansível até
8GB Memory Compatibility List
Interface LAN
RJ-45x2: 10/100/1000 BASE-TX Auto MDI/MDI-X
Suporta WOL
Interface USB
Porta USB 3.0 anfitrião x3 (frente x1, traseira x2)
Saída HDMI
Porta HDMI (traseira x1)
Interface de disco
2 x SATA para interno, suporte SATA II / SATA III hard disk
Fonte de alimentação
Fonte de alimentação 48W
Controle Térmico / Ventilador
Sensor térmico no sistema e processador
Velocidade do ventilador do sistema controlada de acordo com a temperatura
Relógio do sistema
Relógio do sistema alimentado a bateria
Gestão de energia
Liga automaticamente após encerramento devido a corte de energia
Botões
Botão de alimentação
Aviso sonoro
Alerta com frequência ajustável
Ambiente
Temperatura: 0°C ~ 40°C (Operação)
-40°C ~ 70°C (Não-Operação)
Humidade: 0 ~ 80 % R.H. (Não-condensada)
Chassis
2bays Tower Metal Chassis
Dimensão (AxLxP)
146 x 102 x 213 (mm)/ 5.17 x 4.02 x 8.39 (in)
Certificates
CE/FCC/C-Tick/VCCI/BSMI
RoHS
WEEE
2. Funções de software
RAID
Modos RAID
RAID 0, 1 e JBOD
Reconstrução automática
Suportado
Hot-swap
Suportado
Hot Spare
Suportado
Expansão de nível RAID
Suportado
Encriptação de volume RAID
AES256bit
Disco
Gestão de energia
Definição de diminuição das rotações quando inactivo disponível
Pesquisa de blocos danificados
Suportado
Info SMART
Suportado
Teste SMART
Suportado
Roaming de disco
Suporte para roaming com base em volume para outros dispositivos NAS da Thecus(OS7 64bit)
Disco seguro
Suportado
Rede
Configuração
Endereço IP fixo, endereço IP dinâmico
Protocolos de transporte
TCP/IP/AppleTalk
Protocolos de ficheiro
SMB/CIFS, HTTP/HTTPS, FTP, NFS v4, AFP
Agregação de ligações
Load balance, Failover, 802.3ad, Balance-XOR, Balance-TLB, Balance-ALB, Broadcast
TCP/IP
IPV6 & IPV4
DDNS
Suportado
SSH
Suportado
UPnP
Suportado
Encaminhamento de portas UPnP
Suportado
Bonjour
Suportado
VPN Server
Suportado
vLan
Suportado
Estado do sistema
Monitor do sistema
Monitorização de CPU, memória, temperatura, ventoinhas, utilização e protocolos de rede e contagem de acesso de utilizadores
Gestão do registo do sistema
1. Envio do registo do sistema para uma localização predefinida
2. Funcionamento como servidor de registo do sistema para receber informações de registo de outros sistemas
Acesso a dados
SO suportados
Windows XP e depoisr
Windows Server 2003 e depois
UNIX/Linux
Mac OS X
FTP
Servidor FTP incorporado com controlo de largura de banda
FTP seguro
Servidor FTP seguro incorporado com controlo de largura de banda
TFTP
Os utilizadores podem descarregar e carregar ficheiros usando programas TFTP
Gestor de transferências
Transferência BT (via módulo de transmissão)
Transferência NZB (via módulo NZB)
WebDAV/WebDAV SSL
Suportado
Servidor de impressão (IPP)
1. Suporta impressoras USB
2. Suporta várias impressoras IPP
3. O cliente pode gerir as tarefas de impressão (listar/eliminar) através da interface Web de utilizador
Cópia de segurança de dados
Cópia de segurança incremental dos dados do cliente
Acronis True Image (versão OEM)
Recuperação de desastres do sistema cliente
Acronis True Image (versão OEM)
Mac OS X Time Machine
Suportado
Local folder/iSCSI Backup
Suportado
Remote folder/iSCSI Backup
Suportado
Snapshot
Suportado (Btrfs)
Failover do sistema
Suportado
Acesso a nível de bloqueio
Destino/Iniciador iSCSI
Suporta iniciador Microsoft/Mac OS X/Linux e destinos Thecus NAS
Aprovisionamento dinâmico iSCSI
Suportado
MPIO
Suportado
MCS
Suportado
Clustering
Suportado
PGR SCSI3
Suportado
Gestão de energia
Agendamento de início/encerramento
Suportado
Gestão de volume
RAID múltiplo
Suportado
Possibilidade de selecção de múltiplos sistemas de ficheiros
EXT4/XFS/Btrfs
Suporte multimédia
Servidor iTunes
Suporte para formatos AAC, MP3 w/ID3 tag e WAV
Servidor multimédia
Suporta protocolo de transmissão uPnP AV (via módulo)
Autenticação de utilizador
Utilizador local
Suporta contas de utilizadores incorporadas
Grupo local
Suporta grupos de utilizadores incorporados
Windows ADS
Suportado
LDAP
Suportado
Perfil de usuário
Centro de fotosr
Suportado
Centro de arquivos
Suportado
Centro de aplicativos
Suportado
Centro de Vigilância
Suportado
Cópia de segurança na nuvem
DropBox
Suportado (via módulo)
ElephantDrive
Suportado (via módulo)
Amazon S3
Suportado
Sistema de ficheiros
Tipo
Sistema de ficheiros de registo em diário
Idiomas suportados
Suporte unicode
Autorização (ACL)
Opções de "leitura", "gravação" ou "rejeição" em utilizadores individuais ou grupos para as pastas e sub pastas
Quota de utilizador
Suportado (exclude Btrfs)
Folder Quota
Suportado (Btrfs only)
Gestão
Interface de utilizador
A interface do utilizador baseada na Web suporta Inglês, Chinês tradicional, Chinês simplificado, Japonês, Coreano, Francês, Alemão, Italiano, Espanhol, Russo, Polaco e Português.
Utilitário
Assistente de configuração MS Windows
Windows XP e posterior
Assistente de configuração para Mac OS X
Notificação por email
Envia mensagens de sistema por email ao administrador do sistema
Trap SNMP
Envio de informação do sistema
DDNS
Suportado
Aplicações móveis (iOS/Android)
Thecus Connect™ (Android)
Provides live up-to-date information of your NAS
Thecus Wizard™
Offers fast NAS Setup via your phone
T-OnTheGo™
Carregamento, descarregamento e streaming de conteúdo multimédia
Orbweb.me
Uploading, downloading, streaming multimedia and webcam via P2P connection
Segurança de dados
Verificação de vírus
Suporta Verificação de vírus (via módulo)
Expansão da capacidade
Empilhamento
Permite a utilização de 5 volumes iSCSI adicionais de outro NAS da Thecus
Scale-Out
Expansão Dinâmica de Volume
Outras
Reciclagem
Suportado
ISO Mount
Suportado
Visualização local
X-Window via saída HDMI
Disk Wipe
Suportado
Disk Clone
Suportado
Conteúdo da embalagem
Accessory Bag(with key)
Ethernet Cable
Power Cord
Power Adaptor Cable Tie
Power Adaptor
Universal CD
QIG
Warranty Card
HDD Compatibility List Card