Linux NAS | Pequenos escritórios/Doméstico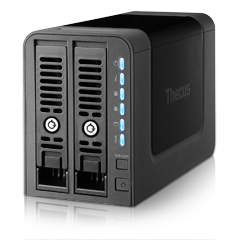 N2350
The Smart Home NAS to Connect and Secure Your Life
Características
RAID múltiplo
No que diz respeito à gestão de dados, os NAS da Thecus oferecem-lhe a maior versatilidade possível. Crie múltiplos volumes RAID, cada um suportando modos de RAID diferentes, incluindo RAID 0, 1 e JBOD, até encontrar o equilíbrio entre desempenho e protecção de dados perfeito para si. Caso um disco rígido avarie, trocá-lo por um novo é uma tarefa simples graças à migração e expansão RAID online e às funcionalidades hot spare e reconstrução automática.

Ligação fácil através de DDNS
Aceda facilmente ao seu NAS através do Dynamic DNS (DDNS), que permite aos utilizadores alocarem e acederem aos ficheiros remotamente através da Internet. Visto que os dígitos do IP são, muitas vezes, de difícil memorização, são utilizados os nomes do domínio para tornar a gestão do NAS mais conveniente. Após a alteração do endereço IP, o servidor DDNS será automaticamente ajustado de forma a disponibilizar permanentemente o acesso remoto. Resumidamente, o DDNS possibilita convenientemente o acesso remoto através de Internet ao N2350 da Thecus®.

Cópia de segurança na nuvem
As nuvens pública e privada encontram-se, com a nova funcionalidade de cópia de segurança na nuvem da Thecus que incorpora agora os serviços Amazon S3 ! Proteja os seus dados através de RAID em casa com um nível de protecção adicional na nuvem. Basta arrastar e largar ficheiros para a pasta no seu NAS e poderá aceder aos mesmos a partir de qualquer computador ou dispositivo móvel através dos serviços Amazon S3.

Conectividade USB 3.0
A conectividade de última geração já chegou com velocidades 10x mais rápidas do que as oferecidas por USB 2.0. Quer seja para ligar câmaras digitais e telemóveis, efectuar a cópia de segurança de discos rígidos externos de grande capacidade ou aumentar a capacidade do seu NAS, a conectividade USB 3.0 fará com que feito num instante, até 5 Gbit/s. A retrocompatibilidade acrescenta a conectividade de um mundo repleto de USB 2.0 e USB 1.1 para obter a melhor combinação de velocidade e acesso universal.

Múltiplos sistemas de ficheiros
O suporte para múltiplos sistemas de ficheiros, incluindo EXT4 e XFS, oferece um flexibilidade aos NAS da Thecus que lhes permite lidar com diferentes tipos de ambientes. Os utilizadores podem utilizar diversos sistemas de ficheiros simultaneamente em múltiplos volumes RAID, permitindo obter o máximo de desempenho de cada um.

Aprovisionamento dinâmico iSCSI
Tire o máximo partido do seu espaço de armazenamento com a velocidade extrema de iSCSI e a eficiência do aprovisionamento dinâmico iSCSI. Ligue através de iSCSI para obter as velocidades de transferência mais rápidas e tornar o espaço desperdiçado em disco uma coisa do passado com a funcionalidade de armazenamento flexível do aprovisionamento dinâmico.

Quotas de utilizador
Divida o armazenamento de um NAS da Thecus entre vários utilizadores. Quer a sua empresa tenha dois ou cem utilizadores, as quotas de utilizador facilitam a divisão e gestão do espaço de disco.
Visão geral
 
03/29/2017 - Thecus ® Technology Corp today unveiled the N2350. An upgraded version of the N2310, this 2-bay full-featured file server brings stalwart security and effortless connectivity to the vital digital data of home and office users. At a superior price to performance ratio, increasing your productivity and controlling your data has never been easier.

Specifications

The Thecus N2350 is powered by a dual core Marvell Armada 385 1.0GHz CPU, and equipped with 1GB of resilient DDR4 RAM. DDR4 is the next evolution in DRAM, delivering higher performance through higher speed and more robust control features while improving energy efficiency with a reduction in memory power demand. The modernized hardware makes the N2350 one of the most energy efficient NAS in its class, helping businesses and home users to save energy.

"The N2350 provides all the essential storage services you need from a NAS, at a very attractive price point with an unprecedented level of energy efficiency. This Thecus NAS server can be quickly assimilated into any home and office environment, to delivering greater connectivity to users from day one," says Florence Shih, General Manager at Thecus Technology Corp.

ThecusOS 7.0

A transformative difference in relation to its predecessor is the addition of ThecusOS 7.0, Thecus' latest OS. This intuitive and feature-rich OS allows for significant advancements in productivity, flexibility, and performance. Key new features include Photo Center, File Center, and Thecus App Center, with an extensive variety of apps for modern digital lifestyles including the Surveillance Station.  

Data Security

The Thecus N2350 offers complete data backup and protection capabilities: Thin provisioning, replication for disaster recovery, Remote Backup or disaster recovery (for real-time remote or local backup) as well as backup to Amazon S3 cloud service.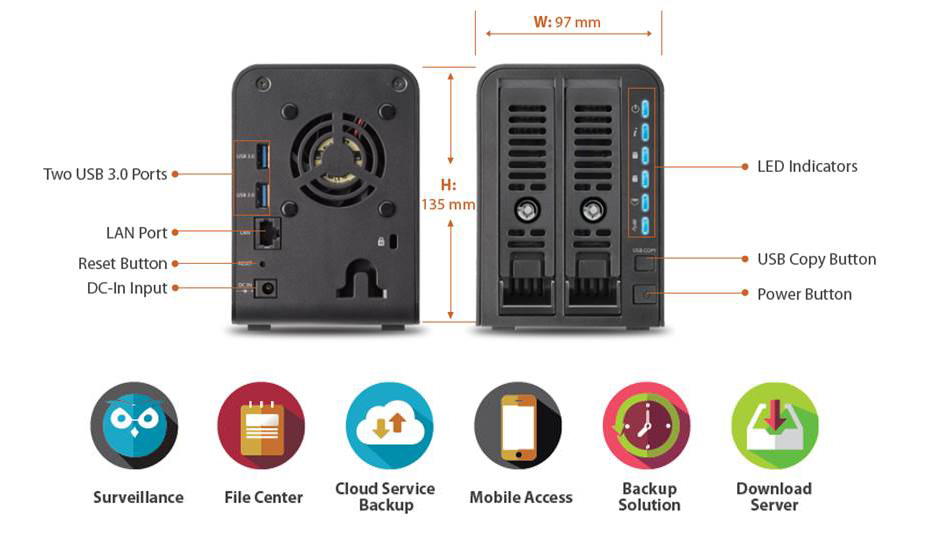 Mobile Access

The N2350 provides further connectivity with two mobile apps. Thecus Connect™ allows users to gain live access to their NAS unit, enabling them to monitor the most up-to-date information. Orbweb.me™ is a P2P module that allows users to easily view, stream and manage files in their NAS anytime and anywhere. No IP address is required.

The N2350 is purposely designed to meet the essential needs of small office and home users, providing everything they require without any unwanted extras. With an upgrade in processor performance, the next generation DDR4 RAM, and the latest ThecusOS 7 software, the N2350 is a highly attractive option in the two-bay NAS market arena.
 
Especificações
1. Plataforma de Hardware
Item
Especificações
Processador
Marvell Armada 385 Dual Core 1GHz SoC
Memória do sistema
1GB DDR4 on board
Memória flash
512MB NAND Flash
Interface LAN
RJ-45x1 : 100/1000 BASE-TX Auto MDI/MDI-X
WOL Suportado
Interface USB
Porta USB 3.0 x2 (traseira )
Interface de disco
2 x SATA para interno, suporte SATA II / SATA III hard disk
HDD staggered
Suportado
Fonte de alimentação
Adaptador de corrente externo 40W
Relógio do sistema
Relógio do sistema alimentado a bateria
Botões
Botão de alimentação
Botão de Cópia USB
Botão de reinicialização (Reset para padrão de fábrica)
Ambiente
Temperatura: 5°C a 40°C
Humidade: 0 ~ 80 % H.R. (Não-condensada)
Chassis
2bays Tower
Barulho
Menos de 20dB
Dimensão (AxLxP)
135 x 97 x 207 (mm)/5.33 x 3.83 x 8.14 (in)
Peso
0.79 kg
Certificates
CE/FCC/C-Tick/VCCI/BSMI
RoHS
WEEE
2. Funções de software
RAID
Modos RAID
RAID 0, 1 e JBOD (Support multiple RAID volumes, each volume support up to 16TB)
Reconstrução automática
Suportado
Hot-swap
Suportado
Hot Spare
Suportado
Expansão RAID online
Suportado
Disco
Gestão de energia
Definição de diminuição das rotações quando inactivo disponível
Pesquisa de blocos danificados
Suportado
Info SMART
Suportado
Teste SMART
Suportado
Roaming de disco
Suporte para roaming com base em volume para outros dispositivos NAS da Thecus(OS7 64bit)
Disk Wipe and Clone
Suportado
Disco seguro
Suportado
Rede
Configuração
Endereço IP fixo, endereço IP dinâmico
Protocolos de transporte
TCP/IP/AppleTalk
Protocolos de ficheiro
SMB/CIFS, HTTP/HTTPS, FTP, NFS v4, AFP
TCP/IP
IPV6 & IPV4
DDNS
Suportado
SSH
Suportado
UPnP
Suportado
Encaminhamento de portas UPnP
Suportado
Bonjour
Suportado
VPN Server
Suportado
vLan
Suportado
Estado do sistema
Monitor do sistema
Monitorização de CPU, memória, temperatura, ventoinhas, utilização e protocolos de rede e contagem de acesso de utilizadores
Gestão do registo do sistema
Envio do registo do sistema para uma localização predefinida
Funcionamento como servidor de registo do sistema para receber informações de registo de outros sistemas
Acesso a dados
SO suportados
Windows XP e depois
Windows Server 2003 e depois
UNIX/Linux
Mac OS X
FTP
Servidor FTP incorporado com controlo de largura de banda
FTP seguro
Servidor FTP seguro incorporado com controlo de largura de banda
TFTP
Os utilizadores podem descarregar e carregar ficheiros usando programas TFTP
Gestor de transferências
Transferência BT (via módulo de transmissão)
WebDAV/WebDAV SSL
Suportado
Servidor de impressão (IPP)
Suporta impressoras USB
Suporta várias impressoras IPP
O cliente pode gerir as tarefas de impressão (listar/eliminar) através da interface Web de utilizador
Cópia de segurança de dados
Mac OS X Time Machine
Suportado
Local folder/iSCSI Backup
Suportado
Remote folder/iSCSI Backup
Suportado
Failover do sistema
Suportado
Acesso a nível de bloqueio
Destino/Iniciador iSCSI
Suporta iniciador Microsoft/Mac OS X/Linux e destinos Thecus NAS
Aprovisionamento dinâmico iSCSI
Suportado
Gestão de energia
Agendamento de início/encerramento
Suportado
Gestão de volume
RAID múltiplo
Suportado
Possibilidade de selecção de múltiplos sistemas de ficheiros
EXT4/XFS
Suporte multimédia
Servidor iTunes
Suporte para formatos AAC, MP3 w/ID3 tag e WAV
Perfil de usuário
Centro de fotos
Suportado
Centro de arquivos
Suportado
Centro de aplicativos
Suportado
Centro de Vigilância
Suportado
Autenticação de utilizador
Utilizador local
Suporta contas de utilizadores incorporadas
Grupo local
Suporta grupos de utilizadores incorporados
Windows ADS
Suportado
LDAP
Suportado
Access Guard
Suporta Filtro IP/Lista Negra e Branca
Cópia de segurança na nuvem
Amazon S3
Suportado
Sistema de ficheiros
Tipo
Sistema de ficheiros de registo em diário
Idiomas suportados
Suporte unicode
Autorização (ACL)
Opções de "leitura", "gravação" ou "rejeição" em utilizadores individuais ou grupos para as pastas e sub pastas
Quota de utilizador
Suportado (exclude Btrfs)
Gestão
Interface de utilizador
A interface do utilizador baseada na Web suporta Inglês, Chinês tradicional, Chinês simplificado, Japonês, Coreano, Francês, Alemão, Italiano, Espanhol, Russo, Polaco, Português, Turco e Tcheco.
Utilitário
Assistente de configuração MS Windows
Suporta Windows XP e depois
Assistente de configuração para Mac OS X
Notificação por email
Envia mensagens de sistema por email ao administrador do sistema
Trap SNMP
Envio de informação do sistema
Aplicações móveis (iOS/Android)
Thecus Connect™ (Android)
Provides live up-to-date information of your NAS
Thecus Wizard™
Offers fast NAS Setup via your phone
T-OnTheGo™
Carregamento, descarregamento e streaming de conteúdo multimédia
Orbweb.me
Uploading, downloading, streaming multimedia and webcam via P2P connection
Outras
Reciclagem
Suportado
Montar ficheiros ISO
Suportado
Conteúdo da embalagem
Ethernet Cable
Power Adaptor
Universal CD
QIG
Warranty Card
HDD Compatibility List Card